Becoming self-reliant by making the most of what we have,
then helping others lift themselves

"We are truly happy only when we are engaged in unselfish service. Without self-reliance one cannot exercise these innate desires to serve. How can we give if there is nothing there? Food for the hungry cannot come from empty shelves."- Marion G. Romney

WE are the safety net for our families and neighbors!

Scroll down for recipes or click on a photo to get that recipe.
"Our Heavenly Father created this beautiful earth, with all its abundance, for our benefit and use. His purpose is to provide for our needs as we walk in faith and obedience. He has lovingly commanded us to 'prepare every needful thing' (see
D&C 109:8
) so that, should adversity come, we may
care for ourselves and our neighbors
, and support bishops as they care for others." "We encourage members worldwide to prepare for adversity in life by having a basic supply of food and water and some money in savings." -
All is Safely Gathered In: Family Home Storage
​

Free documents and files with recipes and
information
A suggestion from me- when you find anything useful to you, or think it might be later, consider printing it out and putting it in a 3-ring binder, or, at the very least, saving it to your own computer or drive. The Internet is a wonderful source of knowledge, but nothing beats having a hard copy. You can read those in power outages or anything else, which is when you might need the info the most! Everything except for two (the gluten-free storage list and steam juicer recipes) are my own documents; there is no copyright on them. Use them freely. On my "
Favorite Resources
" page there are links to
others
' files and e-books.
A Year's Supply: quantities and cost
- find out just how affordable this can be!
Starter
Cookbook
: free, designed especially for high school or college students, or anyone who wants to know how to cook from scratch with what's on hand. It's a compilation of the core recipes and 'formulas' I've learned over the years. It's in 4x6 card format, to cut out and slip into sleeves of a small photo album. It fits exactly in a 72-sleeve book. If you have a bigger book, add some blank cards for photos or recipe notes and experiments. This is the complete set of pages, including a table of contents and an index. Categories include Cakes and Frostings, Cookies, Desserts, Fruits and Vegetables, Main Dishes, soups, and sides, Miscellaneous, Pies, Quick Breads, and Yeast Breads. It takes about 2-4 hours to cut out the cards and assemble them into a book, more if you want it decorated. For a cookbook with these recipes at its heart, with more information and recipes, it's available in a ready-to-use cookbook,
The Chameleon Cook: Cooking Well With What You Have.
Cooking Without Recipes series:
'Cream' Sauces and Soups
No more need to buy cans of condensed cream of chicken soup, cream of mushroom soup, or cheese soup. Make your own fresh versions with one basic recipe, adjust it to your own tastes, and avoid those additives and "tin"-y taste! You can even make sweet sauces and puddings using the basics.
Quickbreads
- Includes pancakes, muffins, rolled biscuits, drop biscuits, cake doughnuts, fritters, waffles, onion rings and popcorn shrimp (yes!), and more.
Ever wonder why Bisquick is so popular? It's made of a few basic ingredients that are at the core of dozens, if not hundreds, of recipes. If you know what ratios to use, you can throw together any kind of quickbread, without a recipe in front of you, with all the flexibility you need for what ingredients are on hand.
_________________
Autumn Harvest Bread
- a pumpkin-pecan yeast bread, only barely sweet. It's also in The Great Pumpkin Cookbook, below.
Basic Breadmaking
-the all-purpose recipe I use for everything from sandwich loaves to caramel-nut rolls.
Classic Candymaking
Includes recipes for buttercream fondant, toffee, truffles, and more than two dozen flavors of fudge. (Yes, I've made almost of all of them, too, getting ready for a class. Gained five pounds...)
Crash Course In Pies
- recipes and instructions for several types of crust, toppings, and basic cream pies and many flavors to try.
Creamy Blender Frosting-Chocolate (dark, medium, and milk chocolate versions), Caramel, Butterscotch, Hazelnut-chocolate, Peanut Butter, and Coconut-Chocolate frostings
Custard Pies-
eggs, sugar, liquid, and sometimes butter are the core ingredients here.
Includes pumpkin, Lemon Chess, cranberry, pecan, and praline-pumpkin pies.
Conversion Charts for dehydrated foods
so you can still use your favorite recipes when using dehydrated foods. This chart includes items sold at the
Home Storage Centers
(potato flakes, dried carrots, onions, refried beans, wheat) as well as tomato powder.
French Bread and variations
-a basic overnight dough, no sugar or oil; crunchy on the outside and silken/chewy inside.
Frostings
- Basic buttercreme frosting and variations, including butterscotch, chocolate, coconut, cream cheese, and caramel frosting. Also includes ideas of what to do with any leftover frosting.
Gardening 101
- includes choosing a garden spot, preparing your soil, fertilizing, choosing seeds, when to plant them, helpful links, and an area-specific freeze chart for SLC, Utah (USDA Zone 5)
Gingerbread Houses
-recipes and tips for baking, assembling, and decorating. What I've learned doing competition-level houses, to save you time and stress making little ones, with your little ones!
Gluten-free food storage list
- recommended grains and quantities for a year's supply
Memorable Holiday Pies
- the best Raspberry Chiffon in the world! creamy pumpkin, and cream pies with variations. Includes banana cream, coconut cream, and much more. Also has different crust options.
No-Stove Treats Cookbook - This is in a larger print because I compiled it for an aunt who loves to make treats, but had just been put in an assisted-living center, with no stove. She does, however, have a microwave! Recipes include fudge, pecan logs, chocolate popcorn, modelling candy clay, and much more.
Powdered Milk- using it without having to drink it. T
wo pages of recipes and storing information. Includes how to make cottage cheese in 10 minutes, homemade yogurt, yogurt cheese (use like cream cheese), sweetened condensed milk, and a super-easy no-bake cheesecake. For even more great recipes, download the
Bee Prepared Pantry Cookbook
or the
Wooden Spoon class booklet
(see
here
for corrections & notes for the Wooden Spoon booklet.)
Pumpkin class handout
- two pages; preparing pumpkin, along with recipes for pumpkin pie, muffins, chili, and yeast bread
Quick & Cheap Meals
two pages. This was written with poor college students and missionaries in mind, so the recipes tend to be scaled down to 1-2 servings. Where recipes are bigger, they include ideas to make multiple meals from one batch.
Soup Mixes
Great to have on hand, to give as gifts, or to take to a neighbor who could use a meal.
Southwestern Wheat Bread
-
a partly-whole-wheat bread with the flavors of onion, chilies, olives, garlic, and jalapenos. You can make it with just a hint of heat, or make it fiery. This took 2nd place at a recent bread competition. (First place was just some really light whole-wheat bread.)
Steam Juicer e-book
- your steam juicer can make much more than just juices!
Tender and Moist Meatloaf and Meatballs
-a basic, delicious recipe, with lots of tips and flavor options
The Anything-Goes Muffin a basic recipe, with instructions on making your own versions!

The Great Pumpkin Cookbook preparing, cooking with, and preserving pumpkin. 28 pages of recipes and instructions.

The Mixing Bowl Homemaking Skill Improvement Project

Tres Leches Cake - Creamy, custard-y, and caramel-y. The best version I've tried.
My gluten-free, dairy-free version right here.

Using dehydrated carrots,onion, and refried beans including conversion charts to use with your own recipes

Using dried apples, quick/regular oats, and rice Conversion charts and recipes

Using potato flakes and potato pearls Conversion charts and recipes

Using Wheat Without A Grinder (mill) - Handout from a class, with info and recipes

Wheat Flour Basics - white? red? hard? soft? learn what the differences are between the kinds of wheat, and why they matter

White Sauces and Pudding: sweet and savory variations This is such an easy-to-adapt recipe!
No more need to buy cans of condensed cream of chicken soup, cream of mushroom soup, or cheese soup. Make your own fresh versions with one basic recipe, adjust it to your own tastes, and avoid those additives and "tin"-y taste! You can even make sweet sauces and puddings using the basics.
Zucchini Recipes -zucchini pizza crust, zucchini cream pie, curried zucchini bisque, and zucchini "apple pie"

Zucchini bread and variations- lemon, and chocolate
Wheat.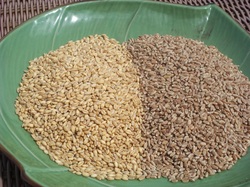 White, red, hard, soft... what's the difference, and does it matter? Click on the photo to read more.
---